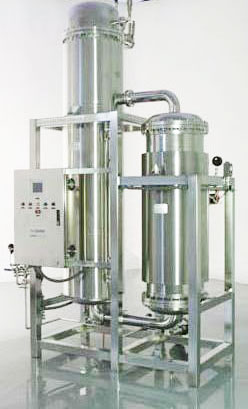 Raw water is pumped to pipe side of decontamination column and heat exchanger by a feed pump, and the liquid level is controlled by level gauge. When industrial steam or hot water entering into heat exchanger, raw water is heated to evaporation temperature, forming strong thermal circulation inside the two columns. Pure steam will be generated in the evaporator (decontamination column). Low speed of steam and height of column will remove any possible impure droplets under the gravity. Through adjusting industrial steam valve opening with a pneumatic regulator, pure steam pressure can be constantly maintained at set point by user, in the range between 0 to 3 bar.
Structure features:
Pure steam generator is consisted by two parallel columns:
Sanitary and clean exchanger with double-shell seamless tube.
Decontamination column
Equipment is made of AISI 316L stainless steel, and work surface of column and exchanger is treated with standard procedure of pickling and passivation.
Gasket adopts material of pharmaceutical polytetrafluoroethylene (Toflon).
All components are installed in solid carbon steel support, and can be conveniently disassembled and assembled.
Mineral wool insulation, with surface covered with AISI304 stainless steel satin polishing protective layer.